About | Curriculum
Parents choosing to send their children to our school do so in the knowledge that we are a well established school with a long standing, excellent reputation. We have unrivalled facilities compared to the other Pre-Schools in Bahrain and offer a high standard of education, particularly with regards to preparing children for their assessments when applying to other schools. Our teachers are qualified and highly experienced and our high adult:child ratio ensures that the children receive the attention they deserve. Our driving aim is to treat each child as an individual and provide a curriculum which develops the "whole child".
We provide a broad and balanced curriculum which sets out the Early Learning goals for the Revised Early Years Foundation Stage (EYFS) within the seven areas of learning. All the areas of learning and development are important and interconnected. Three areas are particularly crucial for igniting children's capacity to learn, form relationships and thrive.
The Prime areas are:- Communication & Language, Physical Development and Personal, Social & Emotional Development.
The specific areas through which these three prime areas are strengthened and applied are:- Literacy, Mathematics, Understanding the World, Expressive Arts and Design.
The Foundation Stage is for children aged between 3 and 4 years and prepares children for learning at Key Stage 1.
For our younger children in Pre-Nursery, activities are based on preparing the children for the Foundation Stage and developing their independence and confidence. We are also firm believers in 'making learning fun' and the curriculum for all the age groups is delivered via plenty of practical, play-based activities. We plan these activities within the seven areas of learning as follows:-
Communication and Language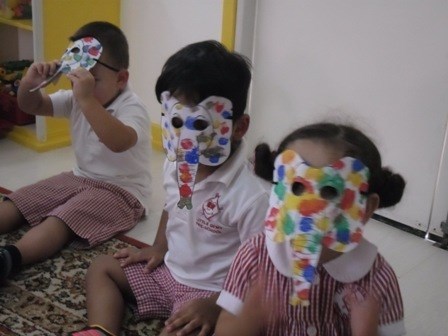 To enhance their language development the children enjoy a wide variety of speaking and listening activities. Active listening is practised during a daily story time whereby all the children are encouraged to discuss the story, predict the ending and relate the text to their own experiences. All the classes cover themes, or topics each term which provide a wealth of opportunity for teaching new vocabulary. Interactive 'circle times' take place daily and aim to develop the children's confidence in speaking in front of their peers. Role play activities help them to learn how to express themselves effectively in different situations.
Literacy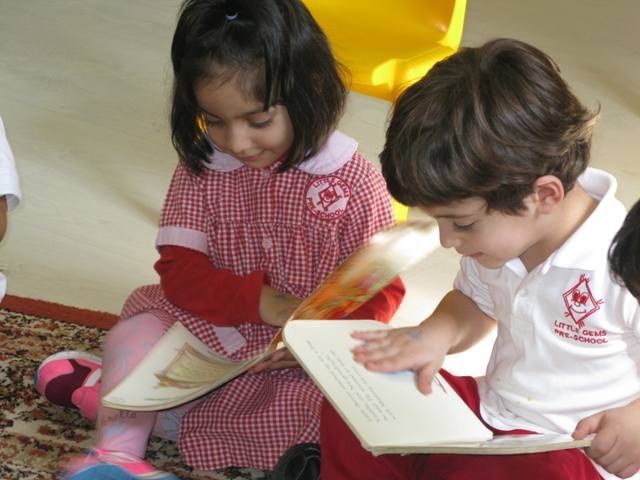 The phonetic alphabet is introduced in a fun, age appropriate way through 'Jolly Phonics'; each sound has an action and song that goes along with it. The children are encouraged to recognise familiar sounds as well as the ones in their own name, which they will begin to write themselves. Valuable pre-reading and writing skills are taught through colouring, free drawing and painting as well as fun, topic related activity sheets. The school has a self-contained library, giving all the children access to a wide variety of books. The children learn how to handle books appropriately and perhaps most importantly to enjoy them, hopefully helping to nurture a lifelong love of reading.
Mathematics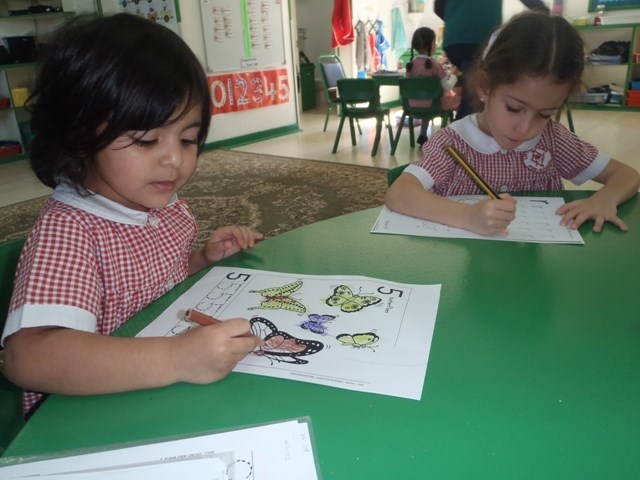 Counting skills, number recognition, space and measurement are developed through group based activities and the use of practical apparatus such as sand and water play and construction toys. The children are introduced to various mathematical concepts and language in a fun way through songs, rhymes and games. Additional activities include matching, sorting, sequencing, recreating simple patterns and learning to recognise and describe basic shapes, all of which build their understanding and teaches them crucial problem solving skills.
Personal, Social and Emotional Development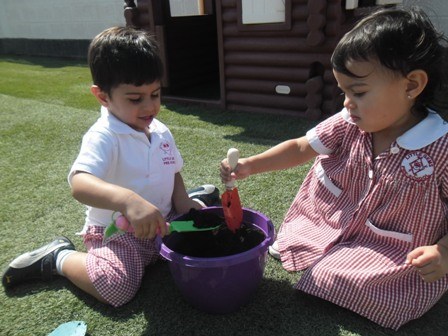 Pre-schools are ideal places to make friends and develop relationships with both children and adults. This special social environment is designed to be friendly and fun and involves working together, sharing ideas and experiences. The development of social skills is a major part of our curriculum and the children are encouraged to be independent, learn how to manage their feelings and to understand appropriate behaviour when working or playing. Each child is made to feel special and encouraged to have self-confidence through lots of positive praise. Our 'Golden Rules' teach them to be polite and kind to others. All the classes also come together for an assembly once a week, which gives the children a real sense of being a part of the school as a whole.
Physical Development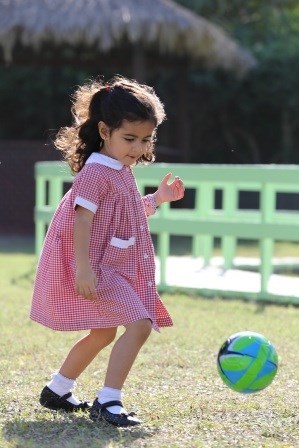 In order to develop their gross motor skills the children are encouraged to move with control, co-ordination, confidence and imagination. This is achieved in a variety of ways through the use of large toys and P.E. equipment, such as cars, bicycles, hoops and balls; and through regular dance and movement sessions. For the development of fine-motor skills our children learn pencil control, to complete pre-writing patterns, and use a range of small (and large) pieces of equipment such as construction sets, puzzles, safety scissors, play dough and threading and lacing activities. We also teach the children ways in which they can look after their bodies, the importance of physical exercise, healthy eating and safety.
Expressive Arts and Design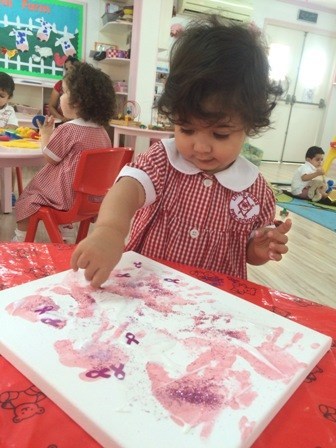 The children are able to explore and play with a variety of media and materials. They enjoy opportunities and encouragment to share their thoughts, ideas and feelings through a variety of activities in art, music, movement, dance and role play. Free painting and drawing enables them to express themselves and developes their creativity. The children take part in singing every day and learn new songs relating to the current theme. Musical instruments teach the children to recognise repeated sounds and sound patterns.
Understanding of the World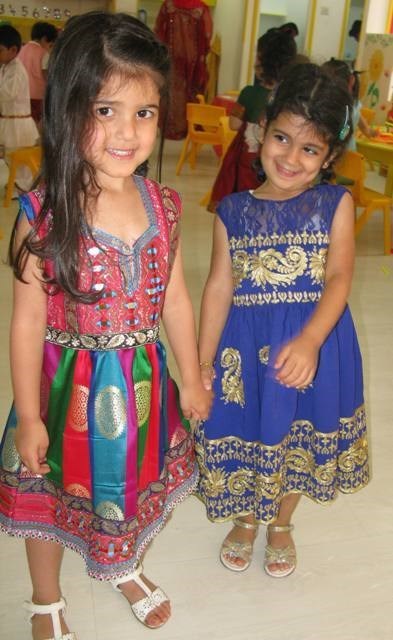 The children are always encouraged to talk about themselves, their family, where they come from as well as special events in their lives. During the year we have a whole school International day whereby the children dress up in their own national dress and bring in a plate of their home country's traditional food to share with their class. The topics that are covered during the year provide a wealth of opportunity for social interaction, language development and creative expression. Parents are encouraged to get involved by sending in related objects of interest, discussing the themes and singing the songs at home. The topics usually end with a themed party, or for the older children, field trips to places of relevant interest.
For more detailed information on the Seven Areas of Learning and the Early Years Foundation Stage parents guidance click here
Arabic Classes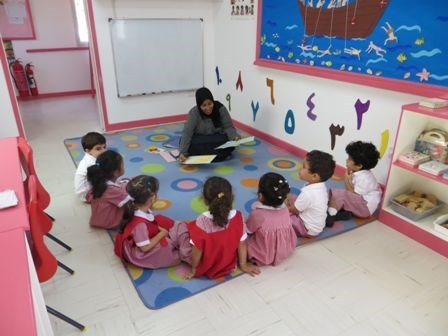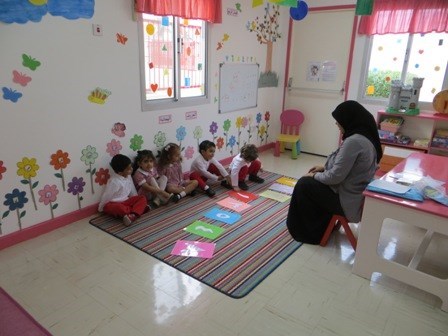 In addition to the British Curriculum we offer Arabic lessons to children age 2 and above. These sessions take place five times a week for the Nursery children and four a week for the Upper Pre-Nursery children. These lessons are optional and take place with Bahraini teachers. They are available for children of any nationality, subject to availability of space, who wish to take part.